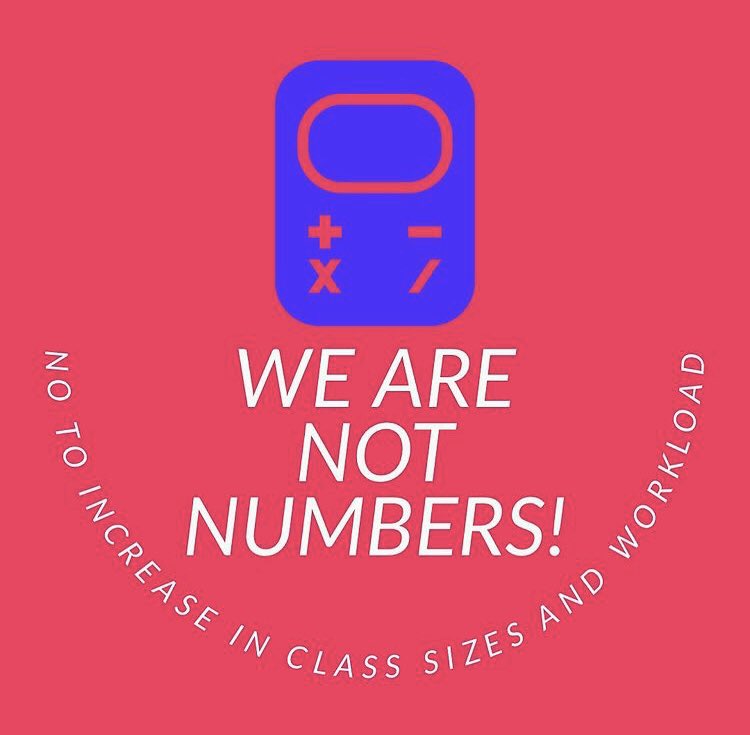 Goldsmiths wants to sack hundreds of staff, disproportionately affecting BAME, women and younger academics.
Frances Corner, Warden of Goldsmiths, is threatening to sack hundreds of lecturers and professional staff by making at least £6 million of job cuts. BAME staff, women and young academics will be hit the hardest. GUCU, the Goldsmiths lecturers' union, is asking Frances Corner to pause these plans and guarantee no jobs cuts for two years.
GUCU has made alternative proposals on how the college can save money, including selling expensive properties and building on Goldsmiths' strong potential for growth. So far, all these suggestions have been ignored, leaving lecturers no choice but to launch a marking boycott to save their jobs and protect Goldsmiths.
Lecturers are willing to negotiate on their demands, but so far Frances Corner is sticking to her disastrous plan.
The lowest-paid academics are most at risk.
Figures from 2019 showed that associate lecturers (ALs) did 40% of the teaching at Goldsmiths, including the majority of seminar teaching, for only 7% of the total pay budget. These lecturers on temporary contracts are most at risk of being sacked.
In the summer, Frances Corner announced she would not automatically renew the contracts of 472 lecturers on temporary contracts. Campaigning forced the university to renew many AL contracts, but hundreds of colleagues lost their jobs. These are hourly paid academics, many of whom are paid only £2-3k per year.
Why is Frances Corner threatening the livelihoods of the most precarious academics when this will result in poorer learning conditions for students?
Goldsmiths is hitting BAME workers and women the hardest.
These cuts will hit BAME lecturers, young academics and women hardest. We know that academics from these groups are more likely to be on temporary contracts, and so are more vulnerable to being sacked.
Goldsmiths has failed to carry out a full equalities assessment to determine how badly workers from disadvantaged groups will be affected by its plans, but numbers from 2020 show that in some areas, up to 75% of academics who faced losing their jobs were BAME. The majority were women. Goldsmiths Anti Racist Action (GARA), along with black academics in the Art department, have recently accused senior management of failing to address its problems with racism.
Now Goldsmiths has said that lecturers taking part in the marking boycott won't be getting furlough pay to allow them to work from home. This spiteful move will hit women hardest, and may go against equalities law.
Why is Frances Corner, who markets herself and Goldsmiths as progressive, feminist and anti-racist, targeting BAME and female staff in this way? Or is that image just a marketing gimmick?
Goldsmiths doesn't care about its staff or students.
Frances Corner promised students face-to-face teaching during the pandemic when it was clear this would neither be safe nor realistic. Later, she forced staff and encouraged students to return to an unsafe campus. Many students ended up locked down in halls of residence, paying full rent with little support received. Now, she is refusing to meet the demands of both students asking for rent reductions and staff asking for a pause in job cuts.
The increased workload on the remaining staff will also lead to worsened learning conditions and courses being cut. Who does this benefit? Why is Frances Corner focused on pushing through damaging cuts rather than keeping students and staff safe and secure?
Students and staff can win better treatment through collective action.
Students at Manchester University went on rent strike in autumn 2020 and won a 30% rent reduction from university management. Lecturers at Heriot-Watt University in Edinburgh voted to strike over management plans to cut 100 jobs; the university withdrew the cuts and the jobs were saved.
Students and staff can win if they support each other and oppose Frances Corner's plans to cut jobs and centralise control. Support the rent strikes! Support the marking boycott!
Justice for Workers is holding a week long virtual picket, 1st-5th March. Sign up here to take part!